in Victory Heights Washington!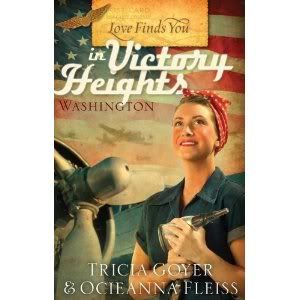 WWII was an intense time. I wasn't around during the time period, but my grandmother has shared her experience. She was part of a high school class of four. Three boys and herself. When the boys quit high school to go to war, she decided to quit too and work in the factory. (She went back later and finished.) Her brothers fought in the war too.
My grandmother's story has always interested me. As I read this book, I pictured my grandmother in the factory working and doing her part to help in the war effort. It was emotional.
If you love WWII historical novels, this is the bittersweet tale of Rosalie and the loss of her fiance to war. She does her part for the war effort by working as a riveter in the local Boeing plant. She finds herself thrust into the limelight as Seattle's own "Rosie the Riveter" by an aspiring reporter. Will she allow herself to move on and open herself to love?
Tricia Goyer is the award-winning author of more than a dozen novels. She and her husband have four children and live in Arkansas. Oceanna Fleiss is a published author and editor. She lives with her husband and their four children in the Seattle area. This is the authors' second book together.

This book was provided for review by Litfuse.