Comfort zone. Is it a good thing? We all like comfortable because it is easy. No risk. But no risk, no gain. "Stepping across the line" can yield great profit to us and to others. City on our knees by TobyMac is a collection of biographical sketches of people who have risked comfortable, people who have erased the divisions to reach for unity, individuals and groups that have prayed and depended on God to achieve more than they could in their own strength. If you are looking for inspiration for yourself or a teen in your life, encouragement that one life used by God can make a difference, this is your book!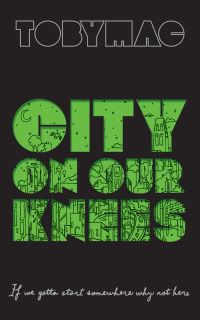 TobyMac is a Grammy Award-winning artist, producer, and songwriter. First known as part of the popular group dc Talk throughout the 1990s, he launched a solo career in 2001 and has since won numerous awards, earned three certified gold albums, and had six No. 1 CHR singles. "City on Our Knees," the inspiration for this book spent thirteen weeks as Billboard's No. 1 Christian song. TobyMac's previous books include Jesus Freaks (with dc Talk) and Under God (with Michael Tait and WallBuilders). TobyMac is married, with five children, and makes his home near Nashville, Tennessee.
This book was provided for review by Bethany House Publishers.