Today is the first day of Melinda's Operation Organization challenge. For eight weeks starting today, we all pick an area of our homes that NEEDS some ORDER. We announce it on Friday (starting today) and then work thru the week to complete it. Pop on over using the button in the right sidebar to check out the rest of the details.
Now for my First Mission (yes I choose to accept it, I even created it!) HA!
First, I have to tell you, I love shoes. I wear mostly flip flops for casual wear, but like some variety with in the flip flops and I love dress shoes, especially little flirty ones! So I buy/own/hoard shoes!
Before I show you my "before" pics, you have to promise not to cringe. This is all about keeping it real and honest and trying to improve our lives.
With that said - This is my current organization system.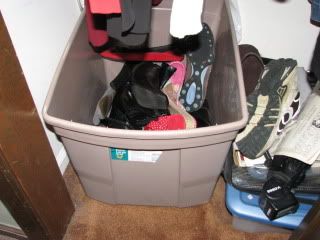 I know - embarrassing!
This is what happens when we are running late and I can't find matching shoes -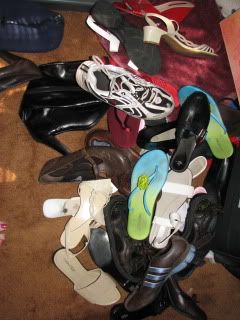 And I also have a bad habit of discarding my shoes wherever I walk into a room. (I have mentioned before - I am a barefoot kinda gal at home!)
foot of the bed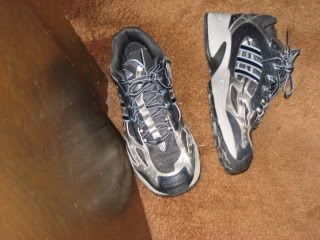 doorway to bedroom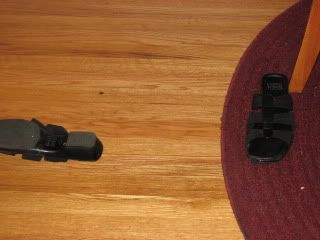 next to dining table
So in addition to cleaning up this mess, I am also going to attempt to keep my shoes in one place in the house or put them away.
Of course - I do have help scattering my shoes -
And finally, proof that the apple doesn't fall far from the tree -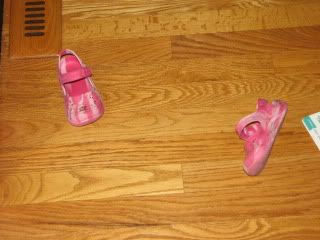 Come back next Friday to see how it turns out and what I've chosen for my next challenge.