If I haven't mentioned it, my favorite reading genre is historical fiction. (Yes I know you probably know that by now.) But there was a time that mystery/suspense was my "go to". So I still enjoy a good mystery now and then.
Beguiled
by Deeanee Gist and J Mark Bertrand was the first suspense novel I read in a while.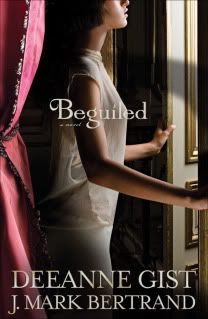 Rylee Monroe is a dogwalker whose clients become victims of a unique robbery ring. Rylee is suspected by the police. Reporter Logan Woods is writing a novel and trying to get to the heart of the robbery ring to wrap up his book. Will he uncover the truth and rescue Rylee's reputation? Is Rylee in danger? Can Logan keep his objectivity?
I love Deanne Gist's other books. This book was okay. I like suspense novels to be difficult to predict and hard to put down. This one didn't fit the bill in either account for me. I knew early on who the "villain" was and where the book was headed. It wasn't a page-turner and the characters were forgettable. All the talk of Charleston's streets and layouts were meaningless to anyone who hasn't been there.
Spend your time on something else.
This book was provided by Bethany House publishers for review.
Deanne Gist and J Mark Bertrand are former critique group partners who decided to blend her bestselling romance skills eith his acclaimed suspense writing for this unique romantic suspense novel. Deanne is vest known for her bestselling historical romances , including
A Bride in the Bargain
, while Mark's solo debut is the crime novel
Back on Murder
.