Sometimes the simple life isn't all that simple. All women are self-conscious and want to believe we are wanted and beautiful.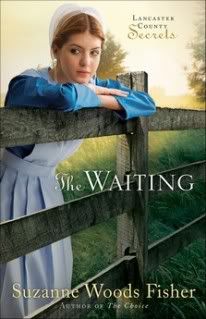 It isn't any different for main character Jorie King in Suzanne Woods Fisher's new novel, The Waiting. She is waiting for Ben Zook to "find" himself, settle down and finally join the Faith. News that Ben Zook has been killed reaches home and the community has to find a way to move on with life. Jorie finds comfort in friendship with Caleb, Ben's brother whose wife has recently died. Until an unlikely thing happens.....
OR not so unlikely. I could see this "twist" coming from early on in the book. Even though I wasn't surprised, I did enjoy the book. It was a sweet tale of a timid girl that doesn't think she is beautiful or that anyone else could ever choose her either. Doesn't that girl reside in all of us? AND, you know my affinity for Amish fiction, especially when it doesn't involve a buggy accident as the plot climax.
This book was provided for review by Litfuse Publicity with no compensation.
About Suzanne Woods Fisher : Suzanne Woods Fisher is the CBA bestselling author of The Choice, The Waiting, Amish Peace, and Amish Proverbs. Her interest in the Anabaptist cultures can be directly traced to her grandfather, W. D. Benedict, who was raised in the Old Order German Baptist Brethren Church in Franklin County, Pennsylvania. Benedict eventually became publisher of Christianity Today magazine. Suzanne is the host of a radio show called Amish Wisdom and her work has appeared in many magazines. She lives in California . Find out more about Suzanne at www.suzannewoodsfisher.com

Suzanne Woods Fisher is thrilled to announce the release of
The Waiting
, book two in The Lancaster Secrets Collection. In
The Waiting
Jorie finds herself caught be two loves and two lives in this compelling page turner about complex people living the simple life.
The Waiting
is the next stand alone story in The Lancaster Secrets Collection and follows in the footsteps of the best-selling,
The Choice
.
The Waiting is in stores now and to celebrate Suzanne is hosting The Waiting KINDLE Giveaway.
One Grand Prize winner will receive a Kindle preloaded with Suzanne Woods Fisher titles and a Amazon.com gift certificate! The Prize Pack (valued at over $185.00) includes:
* A brand new KINDLE, Free 3G, 6", Latest Generation
* The Choice by Suzanne Woods Fisher
* The Waiting by Suzanne Woods Fisher
* A $15 dollar Amazon.com Gift Certificate
To enter, simply click on the icons below to fill out the entry form, then tell 5 or more friends about the contest.
Oh, and enter soon! Winner will be announced on October 28th at
Suzanne's Lancaster Secrets Book Club Party
.
Join Suzanne for the Lancaster Secrets Book Club Party on October 28th!
She'll be announcing the winner of the The Waiting
KINDLE
Giveaway, hosting a book club discussion of The Waiting and The Choice, and giving away copies of
both books
and
HEAPs of readerly prizes!
Be sure to join us on Thursday, October 28th at 5:00 PM PST (6:00 MST, 7:00 CST & 8
EST)
at
Suzanne's Author Page
.