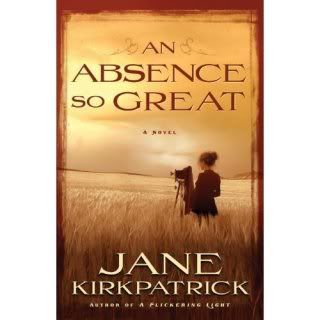 Jane Kirkpatrick's novel,
An Absence So Great
, is the sequel to
A Flickering Light
. Both are based on the life of Kirkpatrick's grandmother. Jessie is a young woman in the early 1900s working as a photographer's assistant who dreams of owning her own studio someday. She has left home to try and escape the attraction that she feels toward her married employer. The novel chronicles Jessie's growth professionally and spiritually.
I love that this is based on a true story, even though it is somewhat fictionalized. I also love that some of the actual photos taken by Jessie are included. Some parts of the book are written in first person, as journal entries. It was unclear as to whether or not these were actual entries or fiction.
Kirkpatrick's writing is skillful and heartfelt. Characters are developed in a way that makes them very real. Both novels are epics. Sweeping in scope and well written. Written to capture visual cues and emotions, these novels are extraordinary. BUT, you must read them in order. Reading
An Absence so Great
first will pretty much void the predecessor (
A Flickering Light
).
Jane Kirkpatrick is an award-winning, best-selling author of sixteen historical novels and three nonfiction titles, including A Flickering Light, the first part of Jessie Gaebele's story and one of Library Journal's Best of 2009. Known for her unique insights into the exploration of community, family, and faith of actual historical women, the Wisconsin native and her husband have called their ranch in Oregon home for the past twenty-five years.

This book was provided for review by Waterbrook/Multnomah. No other compensation was provided. You can read more
here
.
And, even better, I have a copy of
BOTH
to give away. Leave a comment letting me know you are interested by Friday, April 2 for a chance to win.