Good intentions. What use are they unless acted upon? I so often hear "What can God do through me?" (From myself sometimes, as well as the kiddos.) Isn't it underestimating our God and his might to question his ability to do anything great through us? Big things start with faithfulness in the small things.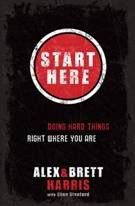 Brothers Alex and Brett Harris, who wrote
Do Hard Things
when they were eighteen, are the authors of
Start Here
.
Start Here
is the next step to
Do Hard Things
. You should definitely read
Do Hard Things
first.
Do Hard Things
was a challenge to teens (and adults) to move past low expectations and do great things for God. It is so easy to become complacent and avoid stepping out in faith. A practical book that offers real life stories and encouragement for those who want to allow God to use them. The book is targeted at teens, but adults can still glean wisdom from it too. It helps the reader identify a "starting place", tips for avoiding discouragement, and how to inspire others.
Alex and Brett Harris are the coauthors of the best-selling book
Do Hard Things
, which they wrote at age eighteen. Today the twins speak regularly to audiences of thousands on The Rebelution Tour, maintain a hugely popular online presence through their blog, TheRebelution.com, and have been featured on CNN, MSNBC, NPR, and in the New York Times. Raised in Portland, Oregon, the brothers currently attend Patrick Henry College in Virginia.
Interested in your own copy. I have a copy to give away! Leave a comment by Friday, March 26. A random commenter will win.