I have several projects that I have neglected FAR. TOO. LONG. So I decided to tackle one this week. It has taken me several days but I think I finally did it.
Here is the before.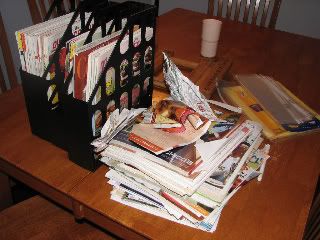 This is the out-of-control stack of magazines.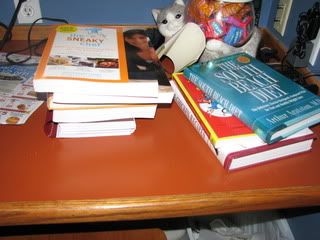 The cookbooks that had taken up residence on the counter.
The cabinet where the recipes need to fit. I forgot to take a photo before I pulled out the magazines.
You see, I love to cook and try new recipes. So I like cooking magazines, and recipe books. Is there an addiction to recipes? It's probably just hoarding... I hate to get rid of recipes, because who knows, I might one day try them. So I finally decided that after asking all the rest of my family to de-clutter and let stuff go, it was time to be a big girl and let some of these go. Sniff!
I started this collection 17 years ago, shortly before getting married. As I was weeding thru I found lots of recipes I remember trying, liking and losing in the abyss of the collection. So now I can welcome them home! I also found recipes that I know are older than my almost 11 year old daughter, that I have NEVER made!
I had an inordinately large amount of dessert recipes! Gotta love me some desserts, even though I can't really eat them right now with the weight loss goals and all....
Needless to say, I ditched quite a few recipes, and was only slightly scared that I might have tossed something that I shouldn't. I was only slightly sad, because you know that you can find almost anything on the internet now....
So here is the finished result.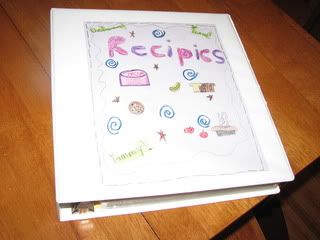 My kiddos made the covers of my new binder. Don't you like the way they mis-spelled recipes?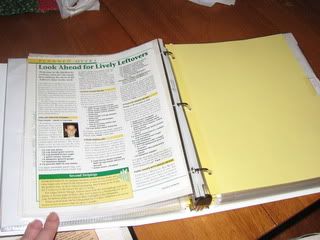 I put the magazine pages that I kept in binder sleeves and organized them by category.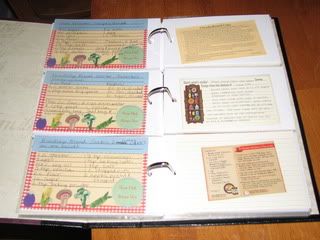 Someone at a Bible study I go to showed me this over a year ago. Purchase a photo book that has pockets and slip in the recipe cards you have. I got this one with room for 700 cards at Target for $4.99.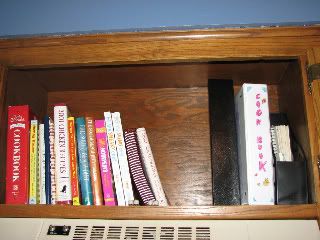 And look, now I have room for more recipes...
My girls are already discussing what recipes they want when I die. Hmmm, should I be worried?