Hubby and I are finally getting a night away on Sunday! We are very thankful that the plans have finally worked out.
If you are just happening by my blog, make sure to check out my daily giveaways that started on Monday, Feb 9.
Today's giveaway is a bundle that includes a copy of
Moments Together for Couples
by Dennis and Barbara Rainey.
From inside jacket -
Moments Together for Couples
will help you grow in intimacy in the two most important relationships in your life. Here is a year's worth of inspiring daily devotionals that will reenergize your marriage and help you stay in close contact with God and your spouse. Dennis and Barbara Rainey are co-autors of
Building Your Mate's Self-Esteem
. Dennis is senior editor of
The HomeBuilders Couples Series
and is also executive director of
FamilyLife
.
But wait ---- there's MORE!
(Do I sound enough like a late-night infomercial?)
Also included to chronicle your best times with your sweetie -
One package of Perfect Fit Reds (12x12)
Creative Memories
Scrapbook Paper, One package of Jumbo Great Lengths Red & Pink Stickers and a Simple Expressions "Pocketbook of titles to jumpstart your album pages".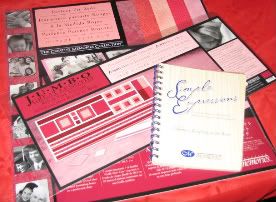 If you are interested in having a copy of the devotional and the
Creative Memories
supplies, leave a comment
telling me your plans for the Valentine's Day weekend
for one entry. Become a follower for a second entry. Please leave a separate comment for each entry. (If you are already a follower, just leave a comment letting me know you already follow). A Random number generator will pick the winner on
Tuesday, February 17th
!
Come back tomorrow for the first winners of the giveaways from earlier in the week!