Well, paradise had to end sometime, didn't it?!
We did not start off on the right foot today. We all got out of bed around 7 and everyone was tired and dragging. I had to get after NiNi 5 times minimum to get dressed. Then had to send her back to change twice because the clothes she had picked out were "play in the mud" clothes.
We were all tired and snippy this morning. Bad combo!!!! Strike one.
So we headed off to the City Market. It is a huge farmers market and collection of stores, restaurants, and craftsmen. We bought some produce, Italian sodas and cinnamon rolls and enjoyed live harp music.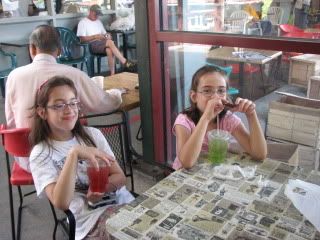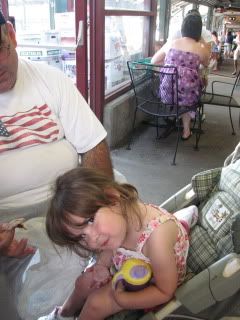 We strolled and did a little window shopping. The kiddos weren't impressed. Strike two!!! We were going to stay there and have lunch, but by 10 we were dragging four bored kids!
So we headed for our afternoon destination a little early. We went to the Toy and Miniature museum in Kansas City, MO. It is an old home that has been renovated and built-up to accomodate the collections.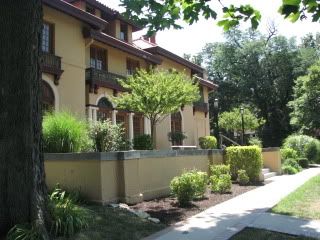 Unfortunately, the only photography allowed was in the storytime/craft room, so I can't show you the amazing exhibits. We spent 3 hours there and didn't peruse nearly as long as we could have. Dolls, dollhouses, trains, pez dispensers, marbles, miniatures of all kinds.....my goodness. It was affordable, however, since we arrived at 10:30 and spent 3 hours, the kiddos got hungry and cranky toward the end. Strike three! BTW - if you are wondering, my 9 and 11 year old daughters loved this, my 6 year old son was good for about the first hour and my toddler for about the first 30 minutes. There isn't a lot of hands-on stuff, although they did have one craft and a couple of scavenger hunts. Definitely a must do for older kids in KC!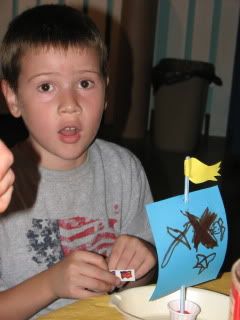 Then we had barbecue for late lunch and came home for a rest.
After a mandatory rest period (any Amazing Race fans?) we hit a home-run or two and the day took a turn for the better. We broke out the yard sprinkler and the water guns. The heat index here was over 100 today. The kids had a great time.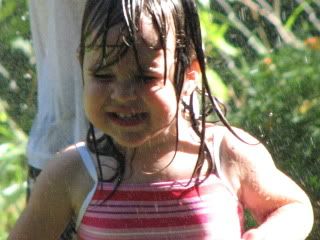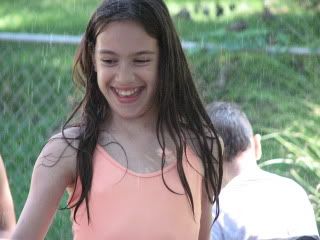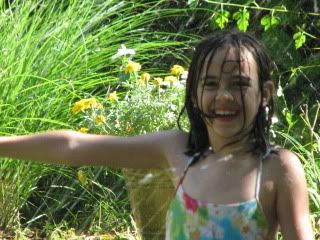 Then we enjoyed a dinner of our market bounty! I taught the girls to shuck corn.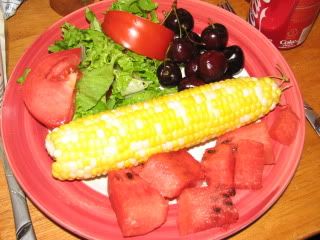 Lastly, NiNi wrote and performed a puppet show for us all! Unfortunately I can't share pics because at the beginning of the show, she informed us that cell phones and flash photography were not permitted during the show! LOL NiNi was very patient with GiGi, who kept sneaking up to steal the puppets! We all had a laugh!
It ended up being a pretty great day!