I seriously considered our day today as my cat woke me up at 6 am, digging his incisors into my ankle. (Yes, I decided to let him live!) We had ambitious plans. We are all a little tired. We are having a hard time because of the age span of the kiddos (2-11), finding things that keep everyone entertained. Yes, it is a good opportunity to teach that being part of a family means that you are not always going to be entertained. It is an opportunity to instruct that family vacations are a little "give and take." But, in the spirit of honesty, all I want to do when a child zooms thru a display/event faster than the speed of light and declares, "Is this ALL we are going to do today?", all I want to do is scream and lecture on gratefulness and privilege. That and maybe a little discipline...,
This morning we headed approximately 1 hour north of home to St. Joseph, MO. It is an area rich in history and museums.
Our first stop was the Pony Express Museum and thanks to a coupon in a travel guide, we were able to get all 6 of us in for $8. The museum is housed on top of the old site of the stables for the Pony Express! They had lots of hands-on exhibits, and memorabilia and a play area for the kiddos. This went over extremely well!!
The kiddos next to the replica of the beginning of the first Pony Express Ride.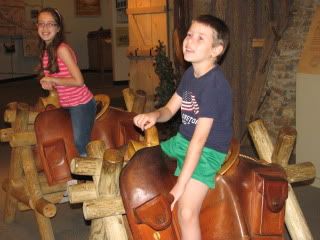 Sitting on the saddles.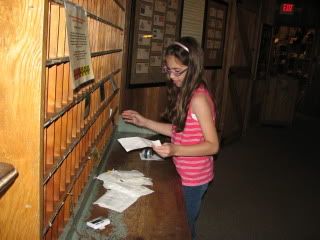 Sorting mail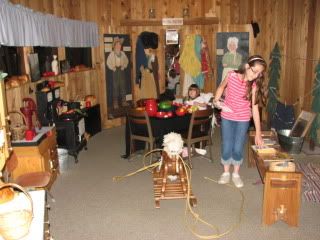 Enjoying the play area.
Across the street from the Pony Express museum is a park with this huge engine. We had to walk over and have a look!
And of course, what do my children find on this huge engine? A new friend! A tiny new friend! Not the huge engine that captures their attention, but this does!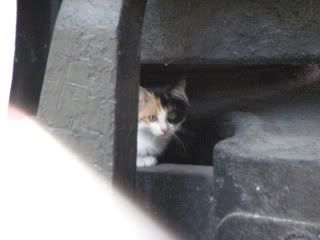 You saw it right? Yes, they wanted to bring it home. And even though it reminds me of my childhood kitty, NO THANK YOU! One set of cat incisors in my ankle are enough, thank you very much!
So once I was labeled the meanest mom ever -
Our next stop was the Patee House Museum. It was a little more expensive but probably worth it! I wouldn't truly know, because of the aforementioned "zooming" thru. It was originally a hotel, was an office for the Pony Express, was a women's school, a garment factory, a Union headquarters during the Civil War, a sanitarium for epileptic patients and now is a museum. The architecture is beautiful and the place is packed with artifacts! Hubby and I could have spents days there! They also had an operational carousel that the kiddos enjoyed.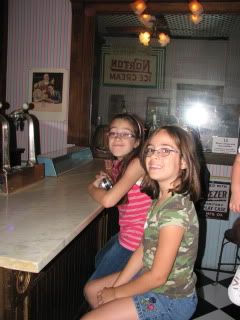 A stop at the soda fountain.
We then drove to the Remington Nature Center. We enjoyed our picnic lunch there. The nature center was also filled with interactive displays for the kids. It had a wonderful paved walking trail right along the banks of the Missouri River too! It was very nice and also very affordable. If you are bothered by references of man being millions or billions of years old, be forewarned that there is some of that here. If you look past that and discuss it later, it still had a lot to offer. Some great Indian artifacts and an aquarium too!
This is one of the coolest interactive exhibits I have seen. It walks you thru different wildlife and characteristics about them and their tracks "magically" appear in the sand!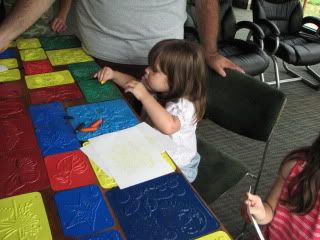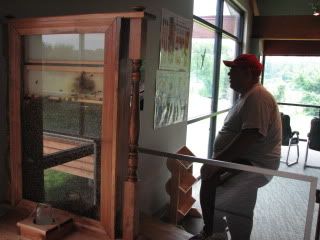 This is a honeybee hive under glass with a pipe feeding to the outside of the building. We watched the bees come and go and work, work, work!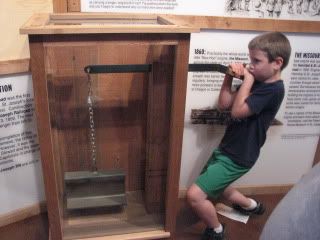 Lifting some railroad track.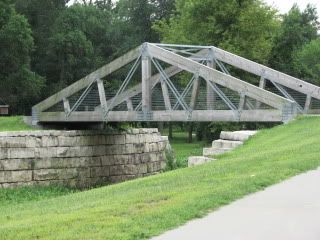 A cool bridge on the walking trail.
We had planned another stop but we were all tired and the weather was starting to get stormy so we headed home.
AND this is why we do it -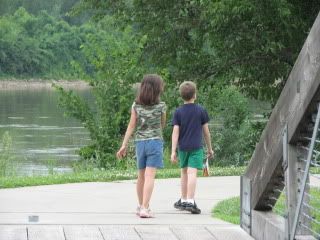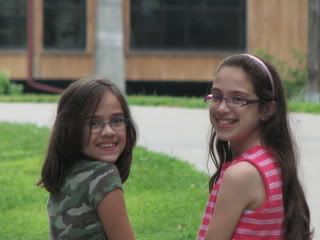 Now if you'll excuse me, I need to go protect my ankles and get some sleep for tomorrow's adventure!!!